Source: wallpaperflare.com
The previous and upcoming Betta events were talked about in the Betta Fish Shows 2019. The venue was filled with colors of the various types of betta fish that were brought by the participants of the show. It was a sight to see and photographers were moving around and getting beautiful pictures to include in their portfolio. The grand champion in the 2016 All Best Betta Show also attended the event and presented the winner, a magnificent Marble Plakat. Photos from the Aquarama 2015  held in Singapore were also displayed. Finally, the grand champion of the 2019 Betta Passion Cup, a Platinum White Halfmoon Plakat, which won against almost 900 competitors.
To give you a background of the betta, here we have a list of the most common and top favorite types of betta fish.
Veil Tail. It is one of the most common, but its beauty is quite rare. The Veil Tail Betta fish has flowing, long dorsal and anal fins, giving it an appearance of swimming with a beautiful veil at its back.
Rose Tail. This type of betta fish has superfluous branches on its tail and fins. These branches look like rose petals, which is the reason why it is named the rose tail. If you look at it swimming, it seems like you're looking at a floating petal.
Half Moon. This is a crowd and pet owner's favorite. This type of betta fish is a smaller version of the Rose Tail, although its tail has the look of ruffles more than that of the petals. The tail is curved and appears like a half-moon.
Crown Tail. This type of betta has one of the most fierce appearances. It has very little webbing between the rays of its tail and fins and if you look closely, it looks like the crown tail is filled with spikes. It looks cool and punky.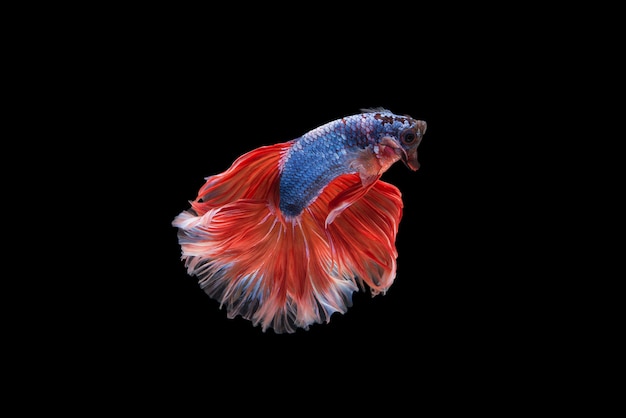 Source: freepik.com
Delta Tail. It is called the Delta because of the shape of its tail, which is reminiscent of the Greek letter d. It looks magnificent when it swims, as it flares its fins and tail. The colorful flares look like fans as the delta glides in the water.
Comb Tail. An interesting type of betta fish, the comb tail, is not common in the wild and is only produced through selective breeding. It has spikes like the Crown Tail, although there is more webbing between its rays.